2011 deals yet another massive blow to the world's pangolins, with possibly 40,000 – 60,000 slaughtered last year alone.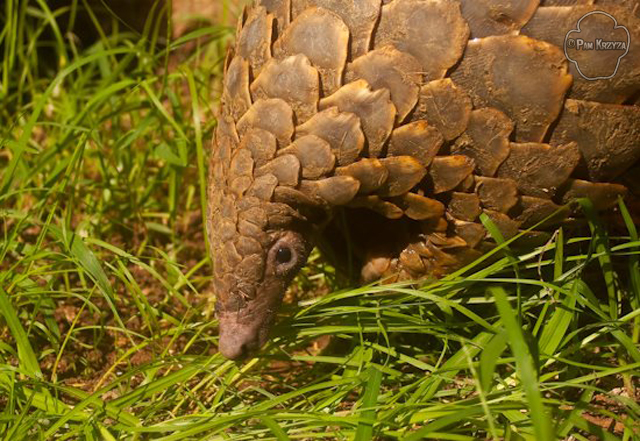 Updated with new information on 6 August, 2012.
The year 2011 saw a minimum of 58 pangolin seizures reported by media and wildlife trade-monitoring networks, TRAFFIC and Southeast Asian Nations Wildlife Enforcement Network (ASEAN-WEN).
The incidents spanned across more than fourteen different countries in East and Southeast Asia, France, and numerous African nations.
Together, these incidents yielded an estimated equivalent of more than 8,700-12,500 pangolins, but experts warn that these busts represent only a small fraction of what's actually circulating the illegal wildlife trade.
In fact, many claim authorities only detect about 20% of the wildlife in this black market circuit -– meaning the total number of pangolins plundered from the wild for illegal trade in 2011 could be as many as 43,800 to 62,800 individuals.
Considering that some reports did not detail the amount of pangolins seized in certain circumstances, these figures could be even higher.
2011 in Review*
With at least twelve seizures in 2011, Thailand had more than any other country in the world this past year.
Thailand is followed closely by India (which had at least eight seizures), Vietnam and Malaysia (a minimum seven in each), and Indonesia (with no fewer than six).
Although Thailand saw more seizures last year than any other country, Indonesia led the way in terms of volume — confiscating more than an estimated 4,800-6,065 throughout the year.
Pangolin seizures worldwide seemed to increase with frequency in the later quarter of the year and more were made in December (ten incidents in six countries) than in any other month in 2011.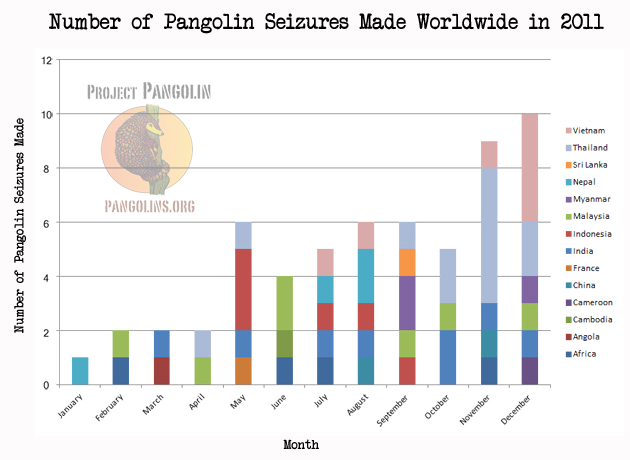 Click here to see how we calculate these figures.
Increased concerns over threats to African pangolins in 2011
AllAfrica.com reported in March that, in a unified effort to combat trans-border wildlife trade, enforcement officials seized some 4,726 kg of pangolin meat from several African nations between January and February of 2011.
The special operation yielded a total of over 22 tonnes of wildlife contraband, which also included numerous raw and finished ivory products, seahorses, and rhino horns.
Experts are concerned about increasing threats to Africa's pangolins, as there have been an increasing number of pangolin seizures throughout Africa, bound for China – including one in 2011 that was linked to a Chinese logging company operating in Mozambique.
In addition to overseas demand for these elusive creatures, there is also a local market for their flesh and body parts for use in superstitious rituals.
Read more about China's pressure on these African animals here.
Indonesia: A major supplier in the illicit pangolin trade
Indonesia had the world's largest single seizure of 2011 — a whopping 5.9 tonne shipment of pangolin flesh and an additional 790 kg of pangolin scales intercepted by Customs officials at Jakarta's largest port in May.
TRAFFIC reported this haul alone likely reflects the equivalent of 1,795 individual scaly anteaters.
Two of the top three biggest seizures of the year took place in Indonesia, while the third largest occurred in nearby Malaysia.
Indonesia serves as a major source for these animals entering the trade and is also used as a major transit route for the smuggling of these and other wildlife.
Pangolin poaching in Indonesia has increased dramatically in recent years, in the wake of severe population reductions that radiate outward from China – the world leader in pangolin consumption.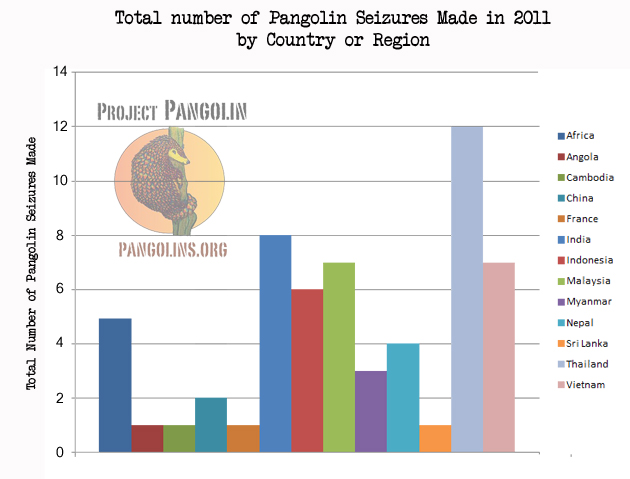 China seems to have made only two pangolin busts in 2011
In August, China Central TV reported that Chinese officials had seized fourteen live pangolins, ivory, and other illegal wildlife products from black market traders in the Yunnan Province.
(See China Central TV's report here, but viewers should be warned that it contains graphic and disturbing footage.)
At the time, the investigation was said to be ongoing.
The only other incident that seems to have occurred in China in 2011 was the confiscation of a single pangolin in November.
Sadly, products derived from these animals – such as pangolin wine – continue to be sold and auctioned off in China, despite their listing on the Appendix II of the Convention on International Trade in Endangered Species (CITES) and continued alarming declines in all four Asian species.
December ends the year with a bang
The final month of 2011 saw at least ten pangolin busts – including one on the very last day of the year.
Four of the incidents (including the one on New Year's Eve) occurred in Vietnam and, together, involved a total of over 200 live pangolins.
Earlier in December, a newly formed Customs team in Malaysia confiscated the flesh of some 1,068 pangolins from a ship bound for the Philippines, after a wild goose chase at high seas ended with the suspects' vessel running aground and the crew jumping overboard and fleeing the scene.
The haul was one of the largest intercepted in 2011 and was reportedly buried in an attempt to prevent any parts of the animals from being stolen for sale in the black market trade.
Five other incidents took place in four other countries in December:
One pangolin seized in Cameroon
Scales of an estimated twelve to seventeen pangolins were confiscated in India
20 pangolins and the scales of six to eight more were taken by officials in Myanmar
No fewer than 90 scaly anteaters were seized in two incidents in Thailand
Surging demand for pangolins
These animals are in high demand in East and Southeast Asia, with China and Vietnam identified as the largest consumer nations.
There, the flesh of adults and fetuses are consumed as delicacies and their scales are used to make traditional medicines.
According to wildlife trade monitoring network, TRAFFIC, pangolins are the most commonly encountered mammals in the illegal wildlife trade in Asia.
Click here to see eight things everyone should know about black market trade in pangolins.
Superstitious beliefs stimulate trade
Like other animal-based traditional Chinese medicines, pangolins' body parts and scales are superstitiously used as somewhat of a "cure-all" remedy for things like reducing swelling, improving liver function, weight loss, stimulating blood circulation, and enhancing lactation in breast-feeding women.
There is no scientific evidence to support any of the medicinal claims made about pangolin body parts.
Rhino horn and pangolin scales, much like our own hair and nails, are chiefly composed of keratin.
Studies have repeatedly shown rhino horn to be void of any curative properties.
---
*All information stated is based only on known seizures, which are compiled from both media reports and from TRAFFIC and ASEAN-WEN reports.
Author: Sarah Pappin. Read more about Sarah here.
Image: © Pam Krzyza
Want to help? Check out our pangolin t-shirts: Project Pangolin is contributing $2.00 per t-shirt or hoodie to Education for Nature-Vietnam.