The latest raid on a pangolin-trading syndicate pushes 2012 totals (based on media-reported busts) to over 300 pangolins seized and five arrests made in Thailand alone.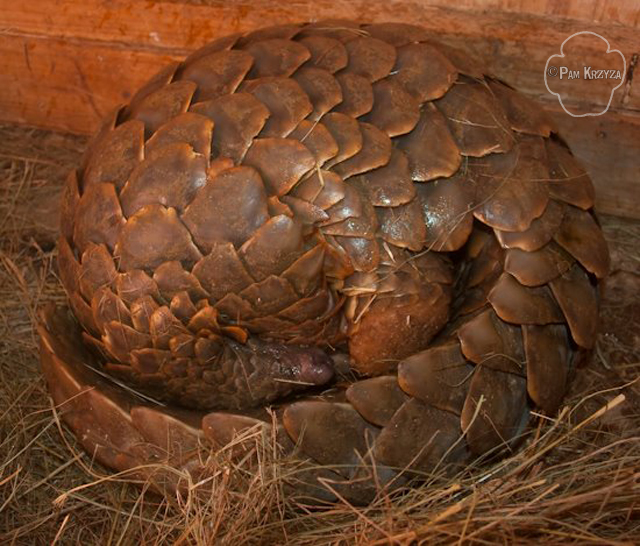 In Thailand's third pangolin bust of the year, another 111 of the animals have been seized in a major sting on an illegal trading operation.
MCOT.net reports that a team of 30 officials acting on a tip off raided a vacant restaurant and another plot of private property that were apparently being used by an organized crime syndicate for their pangolin trade business.
Unfortunately, it seems the sting nabbed only two individuals – 33 year-old Chon Wongfai and 45 year-old Thapanat Tanongbunditsakul – while two other suspects absconded.
The duo admitted that the criminal bustle had been active for a year and that they had been hired to manage it.
They claim they do not know where their employers sourced the animals from.
Police Colonel Thammon Traitippong told media that the haul was valued at a whopping Bt 1.25 million (around US $40,700).
Little black books
The authorities also purportedly confiscated a book containing names of the crime ring's clients, which will be a crucial part of further investigations.
According to the report, the book confirms that most of their customers were dealers in the Satun and Songkhla provinces and other nearby areas.
The suspects had apparently been exporting the scaly anteaters to a "neighboring country" and were making Bt 3,000-4,000 (US $97-$130) per kilogram.
In 2010, wildlife trade-monitoring network, TRAFFIC, explained how similar ledgers seized by Malaysian officials in a 2009 bust had detailed nearly two years worth of the criminals' transactions.
The logbooks reveal that 22 200 pangolins were killed and 834.4 kg of pangolin scales were supplied to the syndicate between May 2007 and January 2009.
These types of finds are extremely important in supplying law enforcement with inside information about the groups' trade connections and the extent of their illegal activities.
Over 300 pangolins seized in Thailand so far this year
Including this week's incident, media has reported on no fewer than three pangolin trade busts in Thailand so far this year, which have seen the seizure of at least 336 pangolins in sum and the arrests of five people.
January: MCOT.net reported that two Malaysian nationals had been apprehended when they were found crossing the border with 45 of the defenseless creatures concealed under the back seat of their car.
January: Thai Customs officials arrested the driver of a truck that was apparently loaded with a shocking 180 scaly anteaters inside.
Bloody myths drive pangolins toward extinction
As an estimated 41,000-60,000 pangolins were poached from the wild in 2011 alone, the insatiable demand for these toothless mammals is clearly the leading factor driving them toward extinction.
The demand for them stems primarily from China and Vietnam, where the flesh of adults and fetuses is consumed as a delicacy or for unfounded health benefits, while their scales, blood, and other body parts are used to make traditional Chinese medicines and 'health tonics'.
The consumers superstitiously believe pangolin-derived concoctions — especially from their scales — can remedy a wide variety of medical conditions, such as reducing swelling, improving liver function, promoting weight loss, stimulating blood circulation, enhancing lactation in breast-feeding women, and have even fallaciously been claimed to cure cancer.
Recent revelations suggest that China's extremely controversial yet lucrative 'medicinal use' pangolin farming ventures have significantly increased demand, thus driving rampant and largely unabated plundering of the animals in the wild. (Read about it here.)
There is no scientific evidence to support any of the medicinal claims made about pangolin body parts.
In fact, rhino horn and pangolin scales — much like our own hair and nails — are chiefly composed of keratin and scientific studies have repeatedly shown rhino horn to be medicinally useless.
Read more about the illicit trade in pangolins here.
---
Author:
Sarah Pappin
. Read more about Sarah
here
.
Want to help? Check out our pangolin t-shirts: Project Pangolin is contributing $2.00 per t-shirt or hoodie to Education for Nature-Vietnam.
Image: ©Pam Krzyza