Customs officials at a busy Malaysian airport have thwarted an attempt to ship dozens of pangolins to Vientiane, Laos.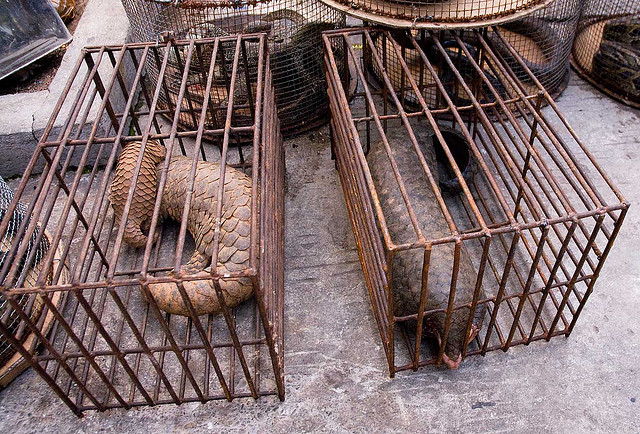 Southeast Asian press are reporting on the discovery of some 25 boxes filled with pangolins in cargo bound for Laos at Malaysia's busiest airport last week, marking the seventh pangolin seizure reported by media around the world so far this year.
This seems to be the nation's first for 2012, following the six that occurred there last year.
Labeled as "live crabs", New Strait Times and Asia One report that the boxes contained 50 of the scaly anteaters, while The Malay Mail claims there were 45.
The discovery was made when an officer noticed a hole in one of the boxes and peered inside to see a pangolin – not a crab.
The hole had been made when the frightened creature had tried to make its way out, according to Asia One, who added that the pangolins would be handed over to the Wildlife Department upon completion of the initial investigation.
Datuk Zainul Abidin Taib, Customs assistant Director-General at Kuala Lumpur International Airport (KLIA), says the haul is worth around RM57,500 (US $19,106) and that it could fetch RM250 (US $83) per kilogram.
Pangolin crisis worsens
As an estimated 40,000 (and perhaps as many as 60,000) pangolins were poached from the wild in 2011 alone, it's becoming increasingly obvious that the insatiable demand for these animals' flesh, skin, scales, blood, and other body parts is the leading factor driving the defenseless creatures toward extinction.
The demand for scaly anteaters stems primarily from China and Vietnam, where the flesh of adults and fetuses is considered a delicacy and traditional Chinese medicine consumers superstitiously believe ingesting concoctions derived from pangolin scales can reduce swelling, improve liver function, promote weight loss, stimulate blood circulation, and enhance lactation in breast-feeding women, among other things.
There is no scientific evidence to support any of the medicinal claims made about pangolin body parts.
Rhino horn and pangolin scales, much like our own hair and nails, are chiefly composed of keratin and studies have repeatedly shown rhino horn to be void of any curative properties.
A recent Project Pangolin discovery suggests that demand for pangolin parts is likely being stimulated by lucrative pangolin farming ventures in China. (Read more about it here.)
---
Author:
Sarah Pappin
. Read more about Sarah
here
.
Image via Flickr/Soggydan