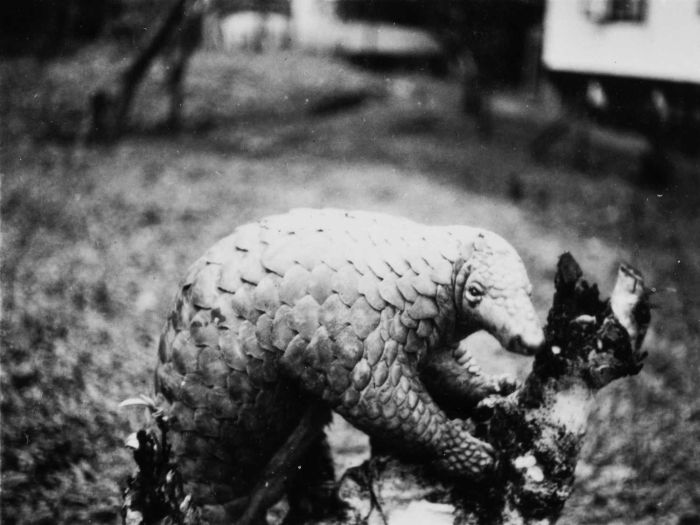 Police in the North Sumatra province say only about 80% of the pangolins were still alive.
According to the Associated Foreign Press, the authorities were acting on a tip off when they made the bust — but no arrests have been made yet.
It seems the investigation is ongoing.
Local police Chief Detective, Yoris Marzuki, explained that the scaly anteaters were likely destined for Hong Kong or mainland China.
This appears to be the first major pangolin seizure in Indonesia so far this year, despite vast and ongoing plundering of the animals — as well as rampant smuggling activities — in many parts of the country.
Apparently the officials are now working with a natural resources conservation agency to return the survivors to the wild.
Post-release monitoring is crucial to conservation efforts for these animals, as it is unclear how many actually survive after being returned to the wild.
As pangolins are somewhat delicate creatures, they can experience life-threatening complications after being removed from the wild for illicit trade activities.
The Baltimore Sun published a photo of one of the baby pangolins seized in this most recent incident, which can be viewed here.
Just last month, Indonesia burned nearly thirteen tonnes of pangolin carcasses and scales that had been seized from wildlife smugglers, thereby sending a message to consumers and profiteers that black market trade in these creatures will not be tolerated.
Pangolins Are Approaching Extinction
Insatiable demand for these insectivorous mammals from East and Southeast Asia (particularly from China and Vietnam) has been the primary factor lending to the demise of all four Asian pangolin species — and now appears to be shifting to African species in the wake of Asia's dwindling populations.
The flesh of adults and babies is considered a delicacy amongst consumers, while the animals' scales are used as an ingredient in superstition-steeped traditional Chinese medicine.
Such pangolin concoctions serve as a "cure-all remedy" for things like reducing swelling, improving liver function, promoting weight loss, stimulating blood circulation, enhancing lactation in breast-feeding women, and have even fallaciously been claimed to cure cancer.
None of the medicinal claims made about the critters and their body parts have been backed by science and in fact, their scales are primarily composed of keratin — the same protein that makes up rhino horns and human hair and nails.
As peer-reviewed lab studies have found rhino horn to be void of medicinal properties, one can assume the same holds true for the pangolin's keratinous scales.
In 2011 alone, an estimated 41,000-60,000 pangolins are believed to have been removed from the wild for these purposes.
It appears the demand for scaly anteaters is being stimulated by China's highly controversial "medicinal use" pangolin farming ventures.
---
Author:
Sarah Pappin
. Read more about Sarah
here
.
Image by Dhr. C.H. Japing via Wikimedia Commons
Want to help? Check out our pangolin t-shirts: Project Pangolin is contributing $2.00 per t-shirt or hoodie to Education for Nature-Vietnam.