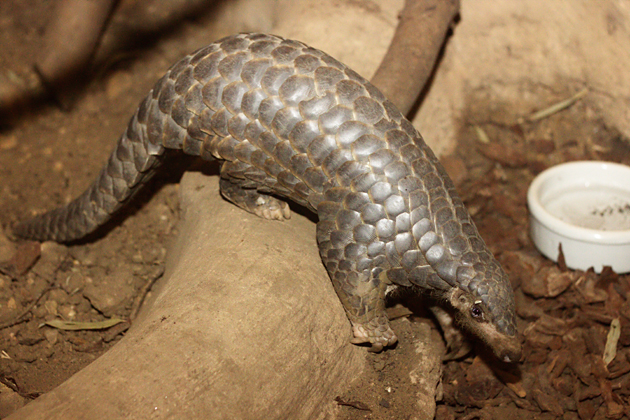 Six hundred kilograms of frozen pangolin flesh have been confiscated from a boat bound for mainland China.
The South China Morning Post reports that officials made the bust late last week.
Apparently, the two suspects were somehow able to evade arrest during the at-sea incident, although no details have been provided.
The weight of the haul could reflect the lives of an estimated 80-120 individual scaly anteaters.
This is China's eighth pangolin bust so far this year.
Four were made within the month of June alone, involving hundreds of pangolins.
Despite being the world's leading consumer of pangolins, pangolin seizures in China appear to have been quite rare in 2011.
Chinese demand for pangolin flesh, scales, and other body parts is believed to be stimulated by the country's lucrative 'medicinal-use' pangolin farms.
How much time is left for the world's scaly anteaters?
Pangolin flesh (that of both adults and babies) is considered a delicacy in parts of East and Southeast Asia — predominantly in China — and some also believe health benefits and good fortunate can be obtained from ingesting it.
The animals' scales are a prized traditional Chinese medicine ingredient for 'cure-all' remedies for things like reducing swelling, improving liver function, promoting weight loss, stimulating blood circulation, enhancing lactation in breast-feeding women, and have even fallaciously been claimed to cure cancer.
Unfortunately, there is no scientific evidence to support any of the medicinal claims mad about pangolins or pangolin products.
In fact, their scales — much like rhino horns and our own hair and nails — are chiefly comprised of keratin and peer-reviewed lab studies have shown rhino horn to be void of any curative, medicinal properties.
In 2011 alone, an estimated 41,000-60,000 pangolins are believed to have been removed from the wild for these purposes.
To learn more about these animals, check out "25 Facts About Pangolins!".
---
Author:
Sarah Pappin
. Read more about Sarah
here
.
Image via Wikimedia Commons
Want to help? Check out our pangolin t-shirts: Project Pangolin is contributing $2.00 per t-shirt or hoodie to Education for Nature-Vietnam.